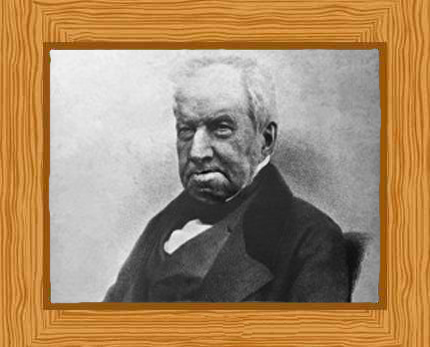 Robert Brown, a botanist, collected, studied and classified thousands of plant flora he collected from the Flinders expedition to Australia in 1801 – 1805.
He described Brownian motion, the movement of small particles in solution, which is named after him and he described and named the plant cell nuclei.
He was the first to recognize the difference between gymnosperms (conifers) and angiosperms (flowering plants).
Early Life and Educational Background
Born on the 21st of December in 1773, Robert Brown was the son of Episcopalian Reverend, James Brown and Helen nee Taylor, a Presbyterian minister's daughter. Robert Brown's hometown was Montrose in Scotland and he attended the local Grammar School which is now known as the Montrose Academy. He then attended the Marischal College in Aberdeen as a Ramsay scholar but had to withdraw in his fourth year because his family moved to Edinburgh.
Robert Brown then attended the University of Edinburgh where he studied medicine but he soon was distracted by a keen interest for botany. While he did not take a degree, Brown showed an interest for natural history. During his time at university, Brown attended lectures held by John Walker, a respected natural historian and he also began corresponding with and collecting for William Witheron, a leading botanist of the time. Brown discovered "Alopecurus alpinus", a new species of grass and he wrote his first botanical paper "The Botanical History of Angus" in 1792.
Robert Brown and his Passion for Botany
In 1793, Brown dropped out of his medical courses and around a year later, he was commissioned as part of the Fifeshire Regiment of Fencibles as a surgeon's mate. The regiment was assigned to Ireland and seeing little action, he focused his time on botany pursuits.
Brown's life in the military did not suited him at it prevented him from accessing libraries and from beginning his own collection of plant specimens. In 1798, on a visit to London, he met botanist Sir Joseph Banks, who had taken part in Captain James Cook's first great voyage, and through him became an associate of the famous Linnean Society.
Brown returned to Ireland and was now accepted as a naturalist which opened doors for him to explore and pursue his love for botany. In 1800 he left military life and accepted a position as naturalist for an expedition to Australia. He made preparations for a trip to Australia by studying the plant specimen that Sir Joseph Banks had previously collected from the area. He was instructed to collect different scientific specimens; the main priority was to collect insects, plants as well as birds. Botanical illustrator and fellow collector Ferdinand Bauer and a gardener, Peter Good, helped Brown establish his collection.
In July of 1801, Robert Brown and "HMS Investigator" under the command of Captain Matthew Flinders, set sail, arriving first at Table Mountain, South Africa where he studied the plant life. The sailing ship arrived at King George Sound, Western Australia in December 1801. Spending over three years in Australia, Brown collected extensively in South Australia, Queensland, New South Wales, Northern Territory and Tasmania.
He amassed over 4000 botanical specimens; 2000 of which were previously unknown. Constant dampness during the expedition threatened Brown's collection, and a large part of this collection was lost when, returning to England, the sailing ship "HMS Porpoise" carrying most of the specimens was wrecked on the Great Barrier Reef. On his return to Britain in May 1805, Brown spent five years working on classifying the specimens that he had gathered during the expedition.
Works and Legacy
Brown published "Prodromus Florae Novae Hollandiae et Insulae Van-Diemen" (Prodromus of the Flora of New Holland and Van Diemen's Land) in 1810, based on the specimens he found on the expedition to Australia. The work documented over 2000 plant species, more than half of which were new discoveries.
Brown also published the long titled "Observations, systematical and geographical, on the herbarium collected by Professor Christian Smith, in the vicinity of the Congo" in 1818, and around four years later, was elected as a Fellow of the Linnean Society.
In 1827, Brown observed, using a microscope, that small particles ejected from pollen grains suspended in water executed a kind of continuous and jittery movement, this was named "Brownian motion". He later observed the same movements in inorganic matter and deduced that the movement was not due to some life giving force. This random movement of particles suspended in a fluid is now called after him.
He read a paper to the Linnean Society in 1831 and published the paper in 1833, naming the nucleus part of a plant cell. While the nucleus of the cell was observed by Leeuwenhoek in 1682, it was Brown who named it the "cell nucleus" and gave credit to Franz Bauer's drawings and observations of this feature in plant cells.
Brown was the first to recognize the difference between gymnosperms (conifers, cycads) and angiosperms (flowering plants). Angiosperms have seeds that are enclosed within an ovary (usually a fruit), while gymnosperms have no flowers or fruits, and have unenclosed or "naked" seeds on the surface of scales or leaves.
From the year 1849 to 1853 Brown was the president of the Linnean Society. Brown was the first Keeper of the Botanical Department for the Natural History Department of the British Museum. He held this position until his death on the 10th of June in 1858, aged 84. As one of his legacies in botany, his name is credited in the Australian herb genus "Brunonia" and other Australian species he discovered during his stay there.