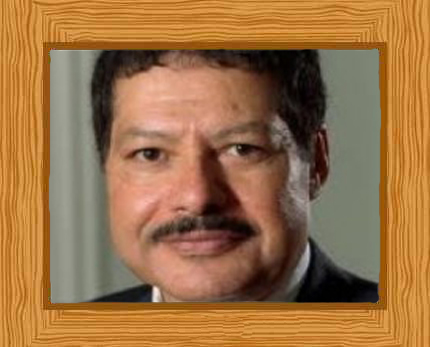 Lived 1946 – 2016.
Ahmed Hassan Zewail was an Egyptian scientist who won the Nobel Prize in Chemistry in 1999 – the first of his race to win such accolade in the field of science. He was known as the Father of femtochemistry (studies of chemical reactions on extremely short timescales) because of his marvelous works in that area of physical chemistry. Zewail was a physics professor, held the Linus Pauling Chair as professor in chemistry and was the Physical Biology Centre director for the UST or the Ultrafast Science and Technology, all at the prestigious school of California Institute of Technology.
Personal Life and Education
Ahmed Zewail was born in Damanhour, Egypt on the 26th of February, 1946. He was raised in Alexandria and his father, Hassan Zewail, was a mechanic who assembled motorcycles and bicycles. Later his father worked as a government official. His mother's name was Rawhia Dar. His parents were happily married for 50 years, until Hassan died on the 22nd of October, 1992.
Zewail was educated at the University of Alexandria where he received his Bachelor's and Master's degree. He then worked for two years as an instructor. Zewail moved, with his wife, to the United Sates to finish his Doctorate (PhD) degree under his mentor, Robin Hochstrasser at the University of Pennsylvania.
Supervised by Charles B. Harris at the University of California, Berkeley, Zewail then completed a post-doctoral fellowship for two years.
Early Career
Zewail was appointed assistant professor of chemical physics at the California Institute of Technology (Caltech) in 1976, and he stayed at Caltech for the remainder of his career. In 1982 Zewail became a naturalized resident of the United States. He was awarded the first ever Linus Pauling Chair of Professor in Chemistry in 1995 and held that position until his death.
Contributions to Science
Ahmed Zewail's main work was as a pioneer and a leader on femtochemistry – an area of physical chemistry that studies the chemical reactions that occur in just a matter of femtoseconds. The timescales are incredibly small – one femtosecond is a millionth of a billionth of a second. Using a rapid technique of ultrafast lasers (which consisted of ultrashort laser pulses), he realized that it was possible for chemical reactions to be mapped in detail and a study of bond rupture and bond formation at a fundamental level could then be made.
While Zewail was continuing his studies on the redistributions of vibrational energy, he began new studies and works on more brief time resolutions for molecules showcasing diverse rational motions and chemical processes.
In 1991 Zewail designed the four-dimensional (4D) ultrafast electron microscope to help understand the complexity and nature of physical, chemical and biological transformations. His book 'The 4D Visualization of Matter' was published in 2014.
Over his lifetime Zewail published over 600 papers and 14 books, including "The Chemical Bond: Structure and Dynamics" in 1992 and "Physical Biology: From Atoms to Medicine" in 2008.
In 1999 Ahmed Zewail received the Nobel Prize for Chemistry, he was the third Egyptian national but first in the field of science to win this prize. He received many different awards and recognitions from his works and experiments. His accolades were awarded by renowned institutions and he received the Grand Collar of the Nile, which is Egypt's highest honor.
Zewail's dedication to science also led to political work. Like his father, he worked for the government. During the 4th of July, 2009 speech held at Cairo University, the President of the United States, Barack Obama, announced a new program of Science Envoys as part of the fresh start between the people from the United States and the Muslims all over the world. And in January the following year, Bruce Alberts, Elias Zerhouni, and Ahmed Zewail became the first ever science emissaries to Islam.
Zewail was selected as a member of the American PCAST or the Presidential Council of Advisors in Science and Technology from 2009 to 2013. This is an advisory group of America's pioneering and leading engineers and scientists who give advice to the President and Vice President and put together guidelines in the areas of science, technology, and invention or innovation.
Personal Details
Ahmed Zewail died aged 70, on 2 August 2016. He is survived by his wife, Dema (nee Faham), a doctor, whom he married in 1989, and his four children: Maha, Amani, Nabeel, and Hani.