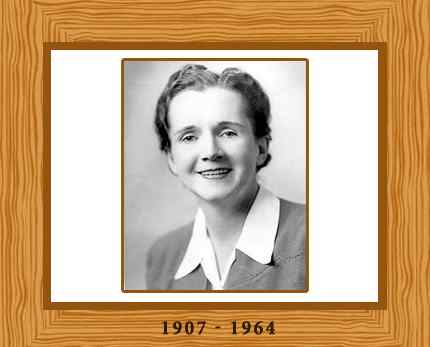 "Through all these new, imaginative, and creative approaches to the problem of sharing our earth with other creatures there runs a constant theme, the awareness that we are dealing with life with living populations and all their pressures and counter pressures, their surges and recessions. Only by taking account of such life forces and by cautiously seeking to guide them into channels favorable to ourselves can we hope to achieve a reasonable accommodation between the insect hordes and ourselves." – Rachel Louise Carson
American marine biologist, writer and naturalist, Rachel Louise Carson is famous for advancing the global environmental movement through her writings. She is regarded as one of the most influential people of the 20th century.
Early Life:
Born on May 27, 1907 on a small family farm near Springdale, Pennsylvania, Rachel Carson was the youngest of the three children. As a child she spent a lot of time exploring the forests and streams around her farm, developing a great passion for nature. She became a devoted writer and published her first story at the age of eleven in the St. Nicholas Magazine.
Carson received her early education at a small school of Springdale and then completed high school in nearby Parnassus, Pennsylvania, graduating in 1925 at the top of her class of forty-four students. The same year, she entered Pennsylvania College for Women (later Chatham College) as English major determined to become a writer; however inspired by an outstanding biology teacher at her college she switched her major to biology.
Contributions and Achievements:
After graduation she held a summer study fellowship at the Marine Biological Laboratory at Woods Hole, Massachusetts. There she fell in love with the ocean, which later became the topic of several of her best-selling books. She then entered Johns Hopkins University (on the basis of scholarship she received upon her graduation from Pennsylvania College) and completed her masters in marine zoology while serving as a teaching subordinate and part-time instructor in biology at Johns Hopkins and the University of Maryland.
Carson's distinction in both writing and biology earned her a part-time position with the U.S. Bureau of Fisheries in 1935, in a temporary job where she wrote radio scripts on marine life. Her articles were published regularly by the Baltimore Sun and other of its syndicated papers. From 1936 to 1952 she became a full-time employee of the Fish and Wildlife Service (FWS), moving into positions that further polished her skills as a writer and editor; she was finally appointed editor-in-chief of the information division.
Carson published her first and favorite book in 1941, 'Under the Sea-Wind': A Naturalist's Picture of Ocean Life". Her second book, 'The Sea Around Us', was published in 1951 and explored the origins and geological aspects of the sea and was published. It won the National Book Award, selling more than 200,000 copies. In 1955, upon completion of The Edge of the Sea, Carson began focusing on her growing concern over the effects of chemicals and pesticides on the environment. Her last and perhaps the most famous book, 'Silent Spring' was published in 1956. It awakened society to a responsibility to other forms of life.
Death:
This great woman died from cancer on April 14, 1964. Her interment is situated at Parklawn Memorial Park and Menorah Gardens in Rockville, Maryland.